Sidewalk Repair Services in New York City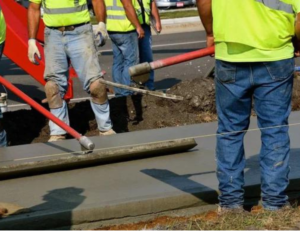 When the sidewalk in front of your property is damaged, let the NYC Sidewalk Repair team handle the situation promptly and professionally.
As industry leaders, our team is qualified to handle any NYC sidewalk repair that you might require by industry codes and guidelines. We're reliable, respected professionals and know how to address the individual needs of our clients.
Above all, we understand that time is money and take prompt action to ensure that our services are comprehensive and cost-effective. With proper maintenance and repairs, your sidewalks are more likely to be safe for those walking or navigating your property. NYC Sidewalk Repair can perform unlimited repairs on sidewalk cracks of any size and draw upon our extensive professional experience to get the job done right.
Sidewalk repair contractor NYC works diligently to ensure that all cracks are properly repaired and sealed, sealing out additional water from spreading within the pavement. We also complete necessary repairs to sidewalks before any resurfacing or repaving to ensure that any repair work is done right the first time. We aim to ensure that cracks are correctly sealed to prevent additional damage and inconvenience to you as the property owner.
Sidewalk Repair Service by Professionals
A broken sidewalk goes beyond aesthetics. It affects your property by posing hazards to pedestrians that to your property and risks liability suits. Every possible action must be taken to protect those navigating your property, including professional crack repair and seal coating services.
Here are what we offer:
The professionals at NYC Sidewalk Repair provide thorough inspections and sidewalk repairs, teamed with outstanding client services.
When you hire professionals for NYC Sidewalk Repairs, you can rest assured that your sidewalks will be adequately repaired before they pose a hazard.
Our team is committed to providing quality customer service and satisfaction, with the needs of our clients always our priority.
You will benefit from the extensive experience that our team offers and have been recognized for our outstanding work and creative problem-solving.
We stand behind the quality of our repair services with an extensive guarantee and strive to maintain your trust by offering competitive rates and reliable maintenance.
Skilled Sidewalk Repairs in New York City
Our experienced sidewalk repair team offers a full range of sidewalk repair services. It includes sealing, cracks repair, power washing, and more. Our attention to detail ensures that your sidewalk will be repaired to the satisfaction of our property owners. We can undertake broken sidewalk repairs of any size, including those on more significant commercial or industrial properties.
Our best sidewalk repair contractors also understand that cracks sometimes appear without visible damage. That's why we offer qualified inspections to help you avoid property damage through the malfunction of sidewalk pedestrian access ramps or other equipment.
NYC Sidewalk Repair is your one-stop source for sidewalk repairs and other valuable services like sidewalk replacement and installation to property owners in NYC. Always customer-focused, we give specialized attention to the needs of our clients. For more details visit our about us  page.